Accomodation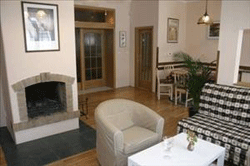 The Czech Republic is one of the most popular tourists destination in Europe due to its rich historic heritage, picturesque landscapes and rather mild climate. It is a good country to relax and have fun. Amateurs of active holidays will also be pleased with the possibilities this country can provide.

But one of the main factors that make your holiday successful and pleasant is good accommodation. People and organizations in the Czech Republic, either governmental or private ones, make a lot of efforts to enhance living conditions for visitors of their country.

In Czechia, not only in Prague but in other cities and towns as well, you can find lots of hotels, hostels, apartments, pensions and guesthouses. In Prague there are also so called botels – hotels on water, mostly they are customized boats tied to a pier. You can choose a variant for any liking and any purse. For example, if you do not want to pay an excessive fee for a four-star hotel in the center of Prague, you can stay in some tiny apartment in the suburb. Transport infrastructure there is rather effective, so you shouldn't have any troubles to get into any place of the city.

Mostly people prefer to make a reservation through a travel agency. Others prefer to find a place to stay on arrival. Our website can offer you a better scenario – using our online booking service you can find a best variant for you in advance in our immense database.